Labule: Passion led me to music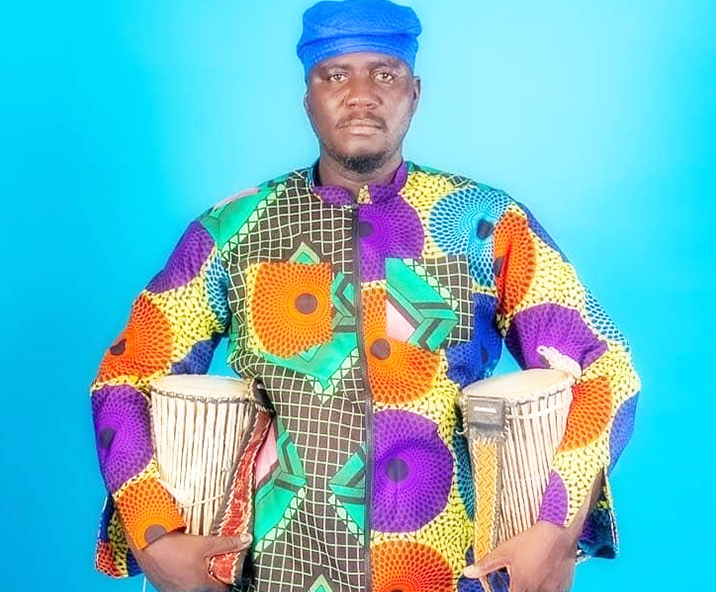 Segun Adekunle, known professionally as Labule, is a musician whose genre he describes as Highfro – a fusion of highlife and Afrobeat. With his signature talking drum, an instrument of his cultural sound that reflects his roots, Labule has somehow created a path for his musical journey since venturing into music in 2015. He shares more about his career and records in this conversation with Ferdinand Ekechukwu
Share a bit of your background with us?
Segun Adekunle, alias Labule, I am from Kogi State, precisely in Mopa. I was born into a family of 10. I did my secondary education in Lagos; it's Victory Grammar School Ikeja and Baptist Model High School Ijegun. Then I went to the University of Lagos where I studied Civil and Environmental Engineering, then to the University of Brighton where I did my Masters in Construction Management.
What made you choose music?
Passion led me to music. As a kid, I love being where we play music or where we make music and the easiest place for me to understand was the church. As a kid, I was supposed to be in the children's church, but I'm going to sneak into the grown-up church just because I needed to see musicians play. So the passion started to grow that I had to join a group in my region and then in Surulere. I joined a fuji group, I played drums and then for the group. In my primary and secondary school I was the head drummer but in college music took a back seat because I needed to focus but still learned from a great Lagbaja mentor, not in as a member of the group but as a fan but Lagbaja never knew. I befriended everyone in his band, but those guys never got to know my mission either.
Was Labule designed to reflect traditional Yoruba culture?
Labule was designed to reflect African tradition. First of all I am African and I am proud to be African but my root is Yoruba. Yoruba culture is rich in tradition and very original. We cannot talk about African culture without talking about Yoruba culture.
What kind of music do you play?
My kind of music is a little different from what we have around, but people keep saying the sound is Lagbaja but it's not. We have the Lagbaja influence in our music. We play a sound called Highfro, it's a fusion of highlife and afrobeat and two songs which give a brief description of this Highfro sound will be released next year, there you will know the direction Labule is taking.
Where do you get your inspiration from?
I am inspired by my environment. I am very aware and very sensitive to events in my environment. We have a lot of things around us that we could learn from. We have a lot of people around us socially; we only care about fixing these issues. I use my songs to address social issues because I am very interested in the things around me, I am influenced by what is happening in my surroundings and my surroundings. I like to write songs that are relatable
Do you think people still listen to highlife music compared to afrobeats?
People still enjoy the highlife and true afrobeat of the legendary Fela Kuti, Femi Kuti and Seun Kuti. For me, I am even confused about the Afrobeat because the only one I know of is the one created by Fela. Highlife and Afrobeat sound portray our culture and identity. This genus can easily be exported outside Nigeria. Europeans, Americans love this kind of music. I played in Houston, Texas in 2018 and always surprised them how the Talking Drum could speak. For me Nigerian music is respected around the world and well done to everyone who has made it.
You grew up listening to King Sunny Ade, Ebenezer Obey, Fela Kuti, Femi Kuti and Lagbaja, what impact have these great artists had on your life?
Big impact… I am addicted to these legends. One thing I have learned from them is simplicity and it has really helped and shaped my life.
Lagbaja has been a big influence for you as Lagbaja's style of music has played a huge role in shaping your music and conveying your messages. How did you connect with him?
I connected with Lagbaja 'in 1993 on the way to school (boarding school). I was in the car when I heard Yinka Davis singing and thought "who will be that again", Fela's voice sounded and I was confused but I immediately connected with him. I like the concept, the atmosphere and the originality.
As someone familiar with both western and indigenous cultures, how would you rate the export of Nigerian musical culture and its global acceptance?
Honestly, I'm happy about the acceptance of our music culture globally, all the top artists overseas want to collaborate with us, Big up to 2face, Wizkid, Burna Boy and the others and big thumbs up to Kenny Ogungbe and D1 who believed in Nigerian music vision.
Are you working on a new project at the moment?
We just recorded a track called Zero and should be released soon. The story behind Zero is to never underestimate anyone in life, just just because someone isn't smart or brilliant doesn't mean they can't be successful in life.