Salt Lake City Arts Council aims to restore cultural sector with $500,000 grant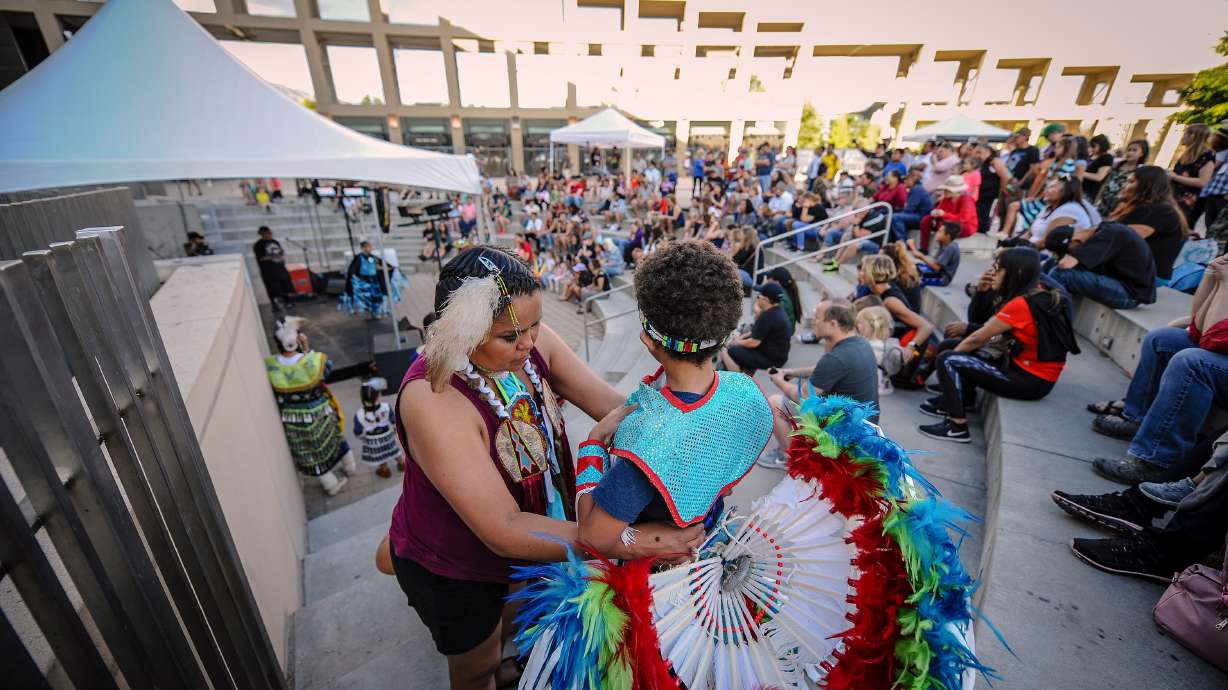 Shannon Secody helps her grandson Elija Hendricks get dressed on May 19, 2018, before her performance at a festival presented by the Salt Lake City Arts Council. The council received a $500,000 grant from the National Endowment for the Arts to help the cultural sector recover from the pandemic. (Adam Fondren, Deseret News)
Estimated reading time: 3-4 minutes
SALT LAKE CITY — The Salt Lake City Arts Council hopes to restore arts and culture to the city, after the pandemic slowed things down significantly.
The arts agency was one of 66 nationwide and the only one in Utah to receive a $500,000 grant from the National Endowment for the Arts to help revive the cultural sector.
The money will be used to fund artists, projects, programs or organizations through the City Arts Grants program, which is part of Salt Lake City Mayor Erin Mendenhall's budget. This year, the program awarded approximately 100 grants totaling approximately $350,000.
The need for subsidies has increased since the start of the pandemic, with the cultural sector being the second hardest hit in the state.
"In the last two years of my administration, we have seen many crises unfold in our city. For so many Salt Lakers and visitors to our city, we have turned to art to reflect, rebuild and heal at through these times," Mendenhall said in a statement.
"Many artists have faced challenges supporting themselves during this time. I am thrilled to see how the Salt Lake City Arts Council can distribute these funds, helping our local creative economy recover for the benefit of our individual artists. locals, non-profit organizations and residents.
While many arts and culture organizations and venues have begun to pivot during the COVID-19 pandemic, much of the industry is still suffering from its impact. Emerging variants and surges of the virus have resulted in cancellations of performances due to performers becoming ill, changing protocols and guidelines, and additional expenses related to COVID-19.
"We were so proud of the arts and culture industry for its ability to respond to community needs, but many organizations were really struggling to have the resources to keep their doors open," Felicia Baca, Director executive of the Salt Lake City Arts Council, said. "A lot of people in our industry have lost their jobs."
The US bailout grant will allow for an overall annual increase of the City Arts Grant program by 50%, helping to meet more needs in the arts and culture sector, according to Baca. The additional funds will increase the number of artists and organizations the program is able to support for an "equitable post-pandemic recovery".
"It's really exciting to be able to support these artists and allow them to get back to work and contribute to a vibrant arts culture in our city. To be able to support efforts that are starting again to lift community spirits and help people, ", Baca said. "A big part of our industry is about collecting, belonging and celebrating life events and as we come back to those it's so great for us to be able to play a part in that."
The Salt Lake City Arts Council plans to initially launch two grant categories later this month, with applications closing the last week of March and the money being distributed in early June.
Grant categories include Artist Career Empowerment and Racial Equity. The Salt Lake City Arts Council's Racial Equity Fellowships were launched last year, according to Baca.
"We know that communities (Black, Indigenous and of color) are some of the hardest hit communities during the pandemic and are being disproportionately impacted. So that's one of the reasons why it's really essential to support these communities," Baca said. "It is really beneficial to help not only individuals but also organizations and the ability to solve these problems socially in their organizations."
For more information on grants and how to apply, visit saltlakearts.org.
×
Related stories
More stories that might interest you