The roar of machines chases away human agitation | Nagpur News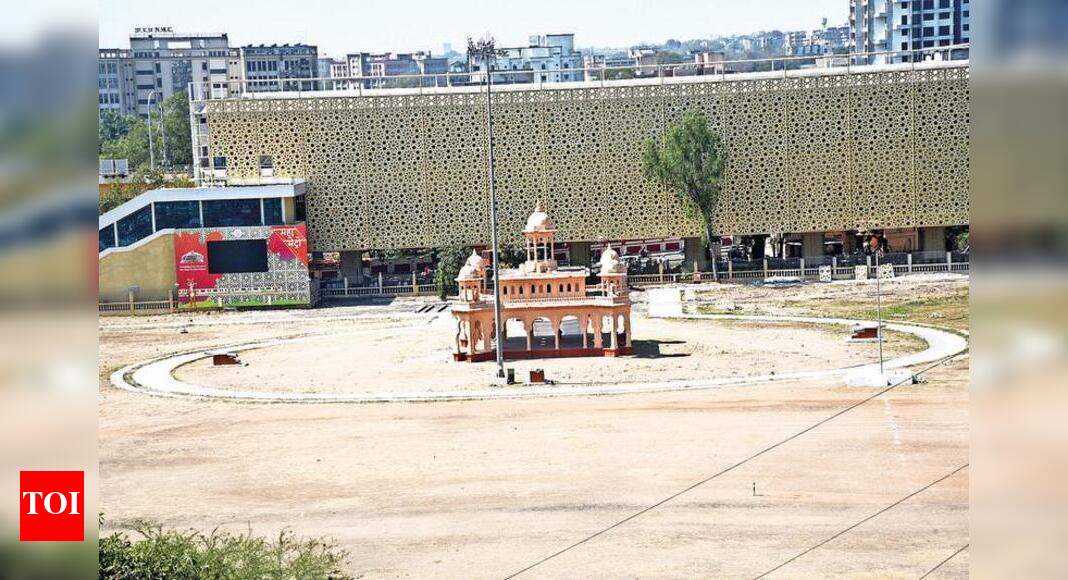 When mega-subway dwellers visit bi-level cities, they rave about the quaint charm, leisurely pace of life, wide traffic-free roads, and laid-back attitude. But bi-level cities also suck. And aspirations are high on testosterones and tend to push forward by stomping on what is right or wrong.
The guardians of Nagpur also have this ambition to put the city on par with the mega metros, in terms of infrastructure. Lo and behold Nagpur today has its own set of flyovers, metros, bridges and underpasses. Whether the city needs it or not may be up for a different debate. But as concrete as the roads that have been built are the collateral damage in terms of green spaces, green cover and soils. A city that once basked in thick foliage and open land now seems smothered under the weight of concrete pillars and traffic bottlenecks.
The iconic Kasturchand Park has been a historically significant feature of Nagpur. Beyond history and heritage, the land is rooted in the many cultural manifestations of the city. "Raavan dehan on the ground KP had been performing for 75 years. It was stopped when it was destined for a metro station," says Narendra Satija, a member of Sanatan Dharam Sabha who organized the event in Dussehra.
"This land is part of the heritage of this city and the event too. We requested another venue, but we did not receive any space to continue this activity," adds Satija, lamenting that the event was seen for free by people from all walks of life and communities.
For over 30 years, the land has also been the venue for Guru Purab celebrations by the Sikh community. "The KP could accommodate more than a lakh of langar-fed people. Parking was also not a problem. But the best part was that being in the center of the city, a lot of people from outside our community were participating and that sent a very good message," says Onkar Singh, a member of a Gurudwara committee. "Last year we were allowed to hold this event at Mankapur Stadium but only our community members attended. We couldn't get the others we like to host," he adds .
Located in the heart of the city, KP looms on the horizon no matter which direction you come from. Today, it is not visible even from the top of a flyover that lands at its surrounding wall. Once the ground was buzzing with the activity of youngsters playing cricket and novice drivers practicing behind the wheel. Kite riders with cries of "woh paar" made the ground vibrate with life.
Political rallies, exhibitions and trade shows, cultural and literary mega-events occupy these spaces from time to time and citizens reclaim them once they are over. But the development of infrastructures constantly requires them. The open space of Ujwal Nagar on Wardha Road, where the city gathered during Durga Puja, is now a multi-level glass, acrylic and steel metro station. The open land near Bishop Cotton High School, surrounded by high-rise buildings, is used for exhibits for most of the year and even as a parking lot. "The ground has been used for YMCA tournaments, by cricket clubs and also by Slum Soccer for training and matches. The fees were very minimal and it was in the center of the city so easily accessible," says Abhijeet Barse, CEO of Slum Soccer.
Spectators, mostly passers-by, flocked to watch the teams play until a few years ago.
The ground of Deekshabhoomi which forms the leitmotif of the city now has a thick enclosing wall. The grounds host a huge congregation of Buddhists and Dalits on Dussehra day. Ironically, it is a celebration of an event where the very people who are now shunned were called into its fold.
The marginalized woman who waits all year round to eat at the langar with her family, or the hawkers who sold balloons, flutes, bow and arrow or mace during Dusshera celebrations have all been driven out. The land gave way to commercial and infrastructural demands.
There could be an argument that many gardens have sprung up across the city for recreational purposes. But these well-maintained spaces with their green gymnasiums are found in many localities and entry is also limited in terms of timings. Sagar, 13, and his group of poorly dressed friends have to jump over a wire mesh fence to play on a park lawn in a newly sprung upscale town. They are chased away as soon as a security guard spots them. They used to play on this pitch before it was landscaped by NMC. The social welfare associations in these residential neighborhoods feel they have a right to "their park".
These gardens can never be equated with open land where one can stroll at any time to connect with nature and oneself. The open grounds have their own vibe and evolve organically. It is not just the lungs of a city, but a cultural salad bowl where all sections and strata merge on different occasions.
"Scientific studies have confirmed that outdoor recreation improves a child's IQ by at least 30%. Erasing open spaces from a city's landscape is tantamount to wiping out the future of a generation," says architect Ashok Moka.
"The preservation and upkeep of open spaces should be a political call from administrators," he said.
The development gave us a tiered flyover, the first of its kind at Wardha Road. Driving at high speed, we fly over the city and see the concrete jungle it has become. To really connect with Nagpur, one has to walk around one of the grounds.
FacebookTwitterLinkedInE-mail