Find a community with the Access Mentoring Program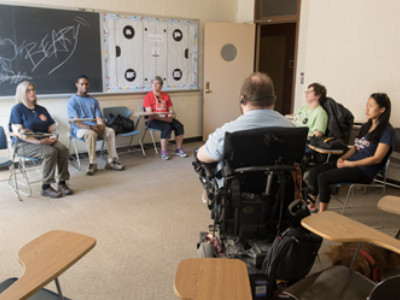 Campus & Community
the Handicap Cultural Center seeks students to participate in Access the mentorship program. Any Syracuse University undergraduate student with a disability, including developmental, mental health, learning, physical, and substance abuse disabilities, is welcome to join this free program to connect and build a community.
As part of the program, students will be matched with a peer or staff member with a disability. Students will have the opportunity to learn about the successes and challenges of their mentors during their academic career and get advice on how to overcome obstacles.
"Coming to campus with a disability can be isolating and challenging. You are not alone," shares Kate Corbett Pollack, coordinator of the Disability Cultural Center. "Our peer mentors and group leaders understand the types of issues that students with disabilities frequently encounter, and many of us have been through the same things. The Access Mentoring program is dedicated to the success and mentorship of undergraduate students with disabilities.
New topics are discussed per meeting. Students are encouraged to share and guidance is provided on successes and challenges related to navigating campus, accessing campus resources, socializing, academic success and more. At meetings, all members are invited to participate in the discussion.
"The Access Mentoring program is a way for me to connect with other undergraduate students and discuss what's going on in my classes, my accommodations, and just to talk about disability culture with the group facilitators of the Disability Cultural Center," shares Danielle Burden. '23.
The free Spring 2022 meetings take place from 5 to 6 p.m. at the Collectif Interculturel, 132 Schine Student Center.
For more information or to join the Access Mentoring Program, email Kate Corbett Pollack or call 315.443.0228.
Story by Haley Mykytka, Student Experience Division '22 Communications Intern, College of Visual and Performing Arts