Ithaca College hosts TEDx conference for the campus community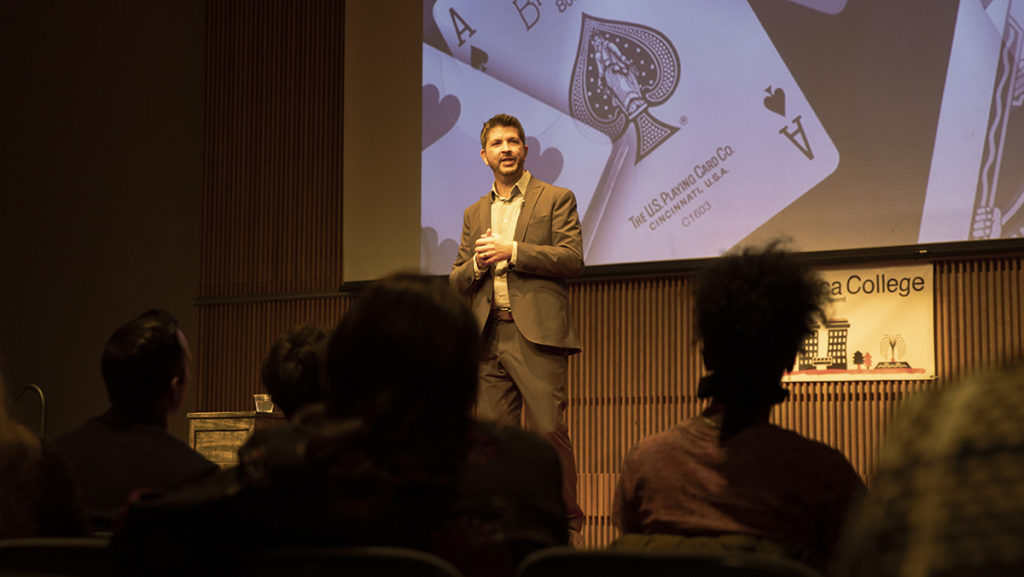 The audience murmured, gasped and clapped as Ithaca College's First TEDx Conference since 2017 has been held on October 22 at Emerson Suites alongside a live screening at Park Hall, featuring 10 speakers who presented talks on the theme of "Empowerment".
Doors to the Emerson Suite doors opened at 9:30 a.m., where the public were checked in and given badges and a scannable digital event program. The first half of the conference featured five speakers until noon, after which the speakers and audience broke for a lunch break. The conference resumed at 1 p.m., after which the last five speakers made their presentations. Live updates from the event were also made available through the club Twitter.
Of the 62 people registered, 55 took part in the event. While none were present at Park Hall, 30 people independently watched the live conference screening.
Freshman Dante Conde said he enjoyed attending the conference and found it to be an enlightening experience.
"The speeches were very well thought out and they were very well done," Conde said. "I'm very happy with the turnout because while it's not an entirely full audience, it's an audience of those who care enough to be there."
Dominic Cottone, an organizational and industrial psychologist who presented 'How to Fail Yourself: Identity Work in the Age of Labourism', addressed society's cultural obsession with achievement and said that success in life will -even is sufficient.
"I think our pursuit of success — I think sometimes the constant need for fulfillment in our lives — kills us," Cottone said in his speech. "We all have different views on what success is, but…the risk right now is that we make our success, and the work it takes to get there, our primary identity."
Alyssa Davis, model, marketer and host of "Shame Sucks. Let's talk" encouraged the public to become more aware as consumers of products, advertisements and marketing campaigns. Davis spoke about shame versus empowerment in marketing and shared her own experiences with self-image issues as a tween.
"If you fall prey to fear, shame–based marketing, you're not alone," Davis said. "I myself was 100% guilty of adding another tube of mascara to the makeup graveyard. … But even before I had access to beauty products or the money to buy them, I already had access to the impacts of these types of messages on my self-image.
Elizabeth Bleicher, Dean of Student Success and Retention and Professor in the College's English Department, gave a presentation titled "Why Are We Here?" » Rethinking the purpose of college. Bleicher pointed to historical and economic events, such as formal education being accessible only to the aristocracy in the 19th vsentry to England, to make students think about their goals while being true to themselves.
"I am also here to challenge assumptions that reduce the university to a transaction in professional accreditation," Bleicher said. "If you think of college as just a way to get a job, you're positioning yourself to serve larger economic forces, not shape them."
John Guastaferro, magician and executive director of the Hyundai Hope on Wheels Foundation and the Genesis Inspiration Foundation, presented "Wonder is Onot Degree Away." Guastaferro demonstrated that everyone has the ability to create wonder in their lives by engaging the public in their magic tricks.
"Even a micro-change of one degree in our daily actions can bring wonder to life," Guastaferro said. "You most definitely came here as a wonder seeker audience. — you are now an army of wonder workers.
Mark Addona, assistant professor in the Department of Strategic Communications and advisor to the TEDx Ithaca College club, said that while turnout wasn't as high as the club expected based on registrations, the event was nonetheless a success. a success.
"I'm really happy with everything that's going on," Addona said. "I think the [executive board] did a good job, especially [in] the last 24 hours [by] get everything finalized and set up. The team that comes from the live events class do an amazing job of setting everything up, making things work [and] start the livestream.
Junior Nicole Kelly, who was at the conference for her live event class, said the conference was a great opportunity for her to gain hands-on experience.
"We just did the inauguration a few weeks ago [with our professor]", Kelly said. "… NOTow we're a little lonely for this one so it's cool to troubleshoot issues without [the professor]right among ourselves."
Cottone said he was impressed with the efforts of the e-board team and enjoyed interacting and networking with other speakers.
"I think all the people who are here today are my heroes," Cottone said. "The team that put it all together is an incredible group of student leaders. And leadership is what I do for a living. I have just seen them work very well together. The team and collaboration behind it all is amazing.