Jim Cox Featured as Adele Grage's Artist for July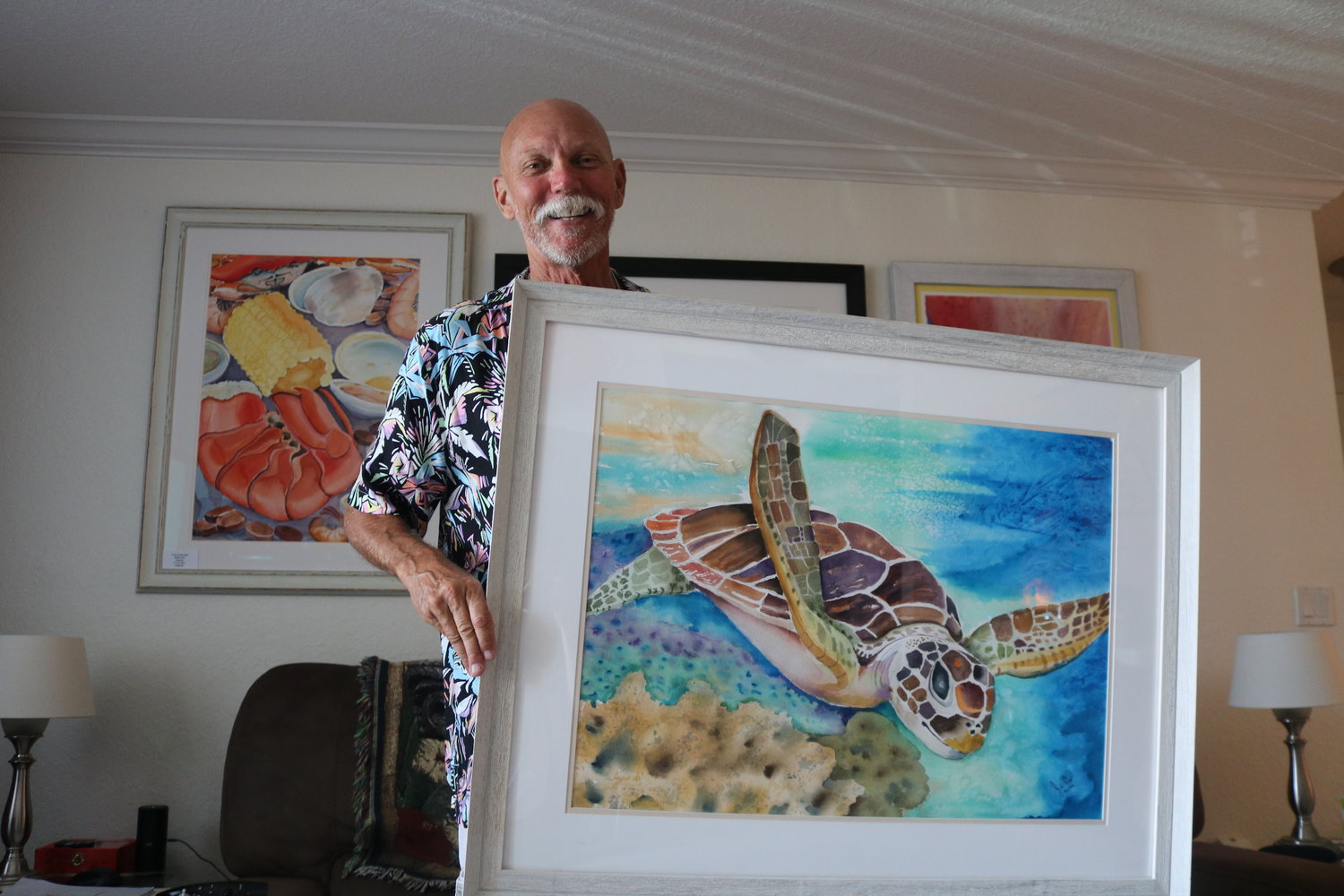 By Anthony Richards
Having his works on display is a sense of accomplishment and wonder, and it's something that never gets old for local artist Jim Cox whenever he gets the chance.
The Ponte Vedra Beach resident's newest exhibit begins July 9 at the Adele Grage Cultural Center located at 716 Ocean Blvd and Seventh Street in Atlantic Beach and will remain on display throughout the rest of the month.
"My art is really more of an impressionist type of art," Cox said. "It's not photorealism, but you can look at my art and see what it is."
His impressionist nature is discovered by looking at and taking the time to study his paintings.
"There are elements in my art that aren't really abstract, but based on some of the techniques that I use, I can take things that look chaotic and turn them into something that makes you feel ice or snowflakes."
Ideas for his paintings usually come from his past experiences or from details he notices in everyday life, including an array of seafood themes.
"All the seafood stuff comes because it was my summer job after high school and through college," Cox said. "I don't know about food and still life, but just something that intrigues me about it."
Cox grew up in Baltimore and discovered his talent and love for art while in high school.
"I was very lucky to be involved in a high school with a very serious arts program," Cox said. "My teacher ran it like a college studio, which meant we weren't allowed to paint less than 4 feet by 4 feet. There was nothing on a sketchbook.
To this day, Cox's early training is reflected in his work, as nearly everything he paints is large scale and made to hang proudly on a wall.
He pursued his passion for art and as a result was accepted into the Jacksonville University Arts Program in August 1974.
Although he would love to paint even more than he did, there were times when he pulled away from it due to life situations and his involvement in a career in sales.
However, he has rediscovered his creative juices in recent years and he loves every minute of it.
"It's just an amazing outlet for my peace or my mind, my well-being, whatever you want to call it," Cox said. "It's been really fun."
He spent several years in Orlando in the past and participated in art exhibitions there and did about a dozen exhibitions during his life.
Cox is also a regular at the North Beaches Art Walk in Neptune Beach, but since it's an outdoor setting, he only takes his prints there to show them on location. As a result, he is really looking forward to presenting his original work at the next exhibition.
Interacting with the viewers of his works is one of the aspects he enjoys the most.
"I love having one-on-one conversations with people, because most people look at a work of art and say whether they like it or not, but there's normally so much more to it," Cox said. "When I have the opportunity to point out some of the things in there, I hope they come away with a more discerning eye the next time they look at someone's art and see beyond the 'initial impression.'
He will hold a reception from 5 p.m. to 9 p.m. on the evening of the opening and will be present in person to answer all your questions.