LTA brings new technology to cinch championships to provide blind and visually impaired tennis fans with unique match coverage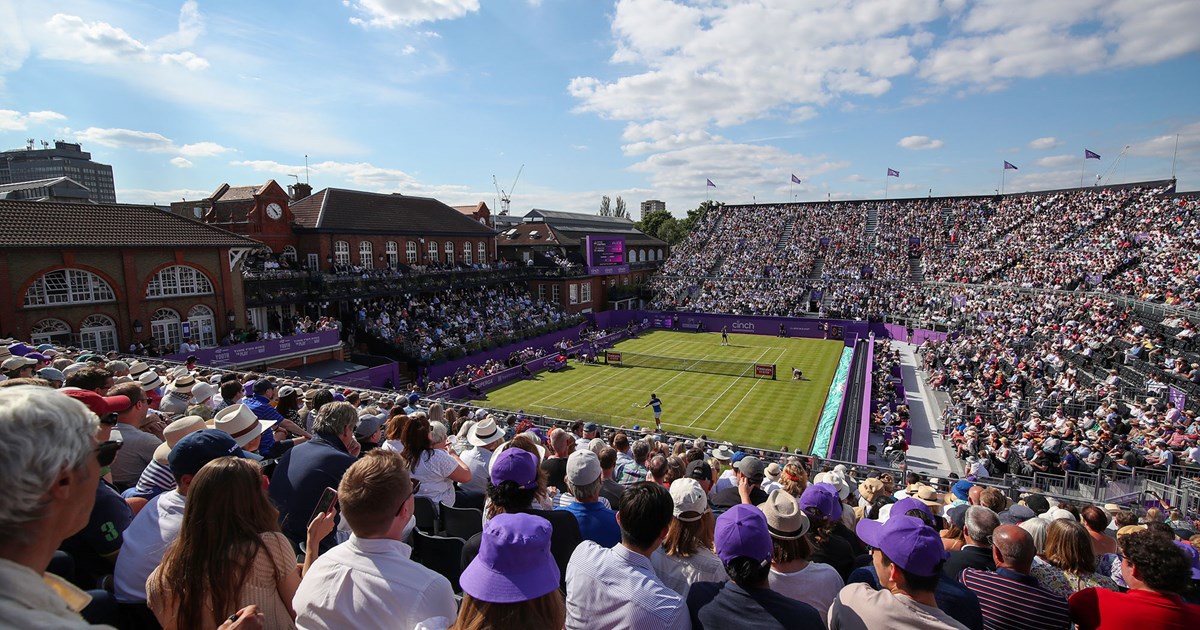 Fans will be able to access the special audio stream from the LTA website and it will be available for every match broadcast on Saturday July 18 and Sunday July 19. If the initial release is successful, the intention will be to deploy the technology more widely in the coming years.
As the national governing body and as part of our commitment to opening tennis up to more audiences and ensuring the sport is accessible to all, we have partnered with RNIB and British Blind Sport to broaden the participation through their 'See Sport Differently' campaign – designed to introduce more blind and partially sighted people to sporting activity and make major sporting events in the UK more accessible to blind and partially sighted people.
Details of tennis matches available with Action Audio from Queen's Club Center Court during the Cinch Championships will be available via the LTA website.
what they said
David Clarke, RNIB Chief Operating Officersaid: "Sports broadcasts are still highly dependent on visuals, with well-established challenges around adding the traditional audio description on live broadcasts and integrating details into the lead commentary.
"Action Audio augments live sports with sound that aids in orientation and the ability to identify where the ball is on the court. We look forward to hearing what tennis fans have to say about their viewing experience and being able to follow the sport in real time.
Alex Pitts, National Partnerships Manager at British Blind Sport said – "British Blind Sport are delighted to see such exciting progress in making spectator sport more accessible to blind and partially sighted people. There has been a lot of focused work behind the scenes to bring Action Audio coverage to the Queens Championship and it creates a standard of what accessible coverage for major sporting events should look like in the future.
Chris Pollard, LTA Director of Major Events and Digital said: "We are very proud to be the first to bring this technology to a sporting event in Britain. We believe tennis should be for everyone and all communities should be able to share in the joy and excitement of watching a great game. We're thrilled that this technology will allow blind and visually impaired fans to experience the action like never before at the Cinch Championships. If this year is successful, we will look to roll out the technology on more days next year.
Tim Devine, Executive Director of Innovation, AKQA said, "It's a big step for Action Audio to become a standard for more inclusive sports programming."
Opening up tennis to more people with disabilities
The implementation of Action Audio technology at cinch championships complements our broader disabled tennis business and our work to engage more people with disabilities in the sport. The LTA's Open Court disabled tennis program is one of the largest of its kind in all of sport, and with the support of Sport England it has helped a record number of people with disabilities and those with medical conditions long term to pick up a racquet and enjoy the benefits of playing tennis since its launch. Internationally, Britain is now regarded as one of the world's leading nations for disabled tennis, with world champions and title winners in wheelchair tennis, tennis for the visually impaired, l learning tennis for the disabled and tennis for the deaf.
Last month, the LTA also achieved Tier 1 status as a Disability Confident Engaged Employer. As part of this, we are committed to ensuring that certain minimum standards are met in recruitment, employee support, reasonable accommodation and working with other organizations to actively promote the roles of people with disabilities.