McKinney Celebrates Completion of Historic Silos Mural in Cultural District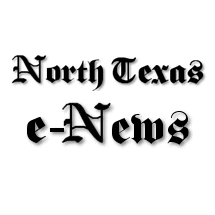 Australian artist Guido van Helten painted a mural on 100′ silos
which will serve as the backdrop for the new McKinney Town Hall
McKinney, Texas – After nearly two months of painting in extreme heat and occasional downpours, internationally acclaimed artist Guido van Helten has finished installing his artwork on the historic 100-foot-tall concrete silos in the cultural district of historic downtown McKinney. . The mural will become part of van Helten's The monuments series, commissioned work on industrial architecture across the United States and received worldwide recognition.
"For five years, the The monuments the projects I've worked on in the US are largely focused on regional areas, with the goal of sharing local stories and projecting community voices to a wider audience. This project now adds another southern element connecting to other locations in the ongoing series," van Helten said.
Prior to painting, the artist and a cultural researcher spent time within the McKinney community learning from citizens about their identity, heritage and cultures to inspire the design of the artwork. Focusing much of that time on the east side of town, particularly in the communities surrounding the silos, van Helten took more than 5,000 photographs, recorded interviews and oral histories, interacted with hundreds of residents and visited small businesses, nonprofits, places of worship, and even held a workshop with students from Faubion Middle School. His encounters included a wide range of demographics, age groups and backgrounds.
"The artwork is a snapshot of the unique atmosphere and moment of this community as it continues to change and grow. With a thoughtful, culture-driven approach, I wanted to ensure that the artwork on a heritage industrial structure remains relevant as this town grows around it," van Helten said. "The painted figures act as semiotic illustrations of unity and promise that the town of McKinney offers to its diverse population."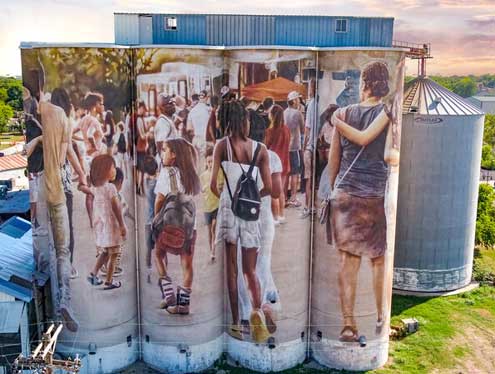 "This art has a lot of layers, which you can see with the depth of field depicted in the piece. For me, it represents the layers of our community. McKinney is not just one thing; we have a balance between the historic and new, old and young, growing amenities and open spaces, a big city but a hometown feel.Our dichotomy is our strength," said Mayor George Fuller.
As the industrial area east of Highway 5 is redeveloped, the mural pays homage to the city's identity and culture. Soon, the silos will serve as the backdrop for the new McKinney City Hall which is set to open later this month. One of the city's goals for the redevelopment project is to preserve and celebrate the historic and cultural elements of the communities in and around the new City Hall area.
"I see this mural as a celebration of our legacy of gathering at McKinney and the memories created at these special events. We are bringing our families together to celebrate Home for the Holidays and the 4th of July at Red, White, and Boom; we appreciate art and wine at Arts in Bloom and maybe have too much fun at Oktoberfest. And more recently, we're taking time to honor and celebrate our rich diversity through events like Juneteenth, the day of Mexican independence and Diwali," said Mayor Fuller.
Public art has been cherished in McKinney for decades and was integral to the designation of Historic Downtown McKinney as a Cultural District in 2018. The Cultural District includes an abundance of public art projects: the McKinney Monarchs sculptures, numerous murals, and McKinney Blooms' three-story mosaic in the Chestnut Commons parking lot, to name a few.
"These public works of art will come together to give our community a stronger sense of identity, help set us apart, and celebrate the power of ideas and images. These silos are now an iconic place for our community, and we are thrilled with how they turned out," said City Manager Paul Grimes.