Northwestern Releases First Design Concepts for Dynamic New Ryan Field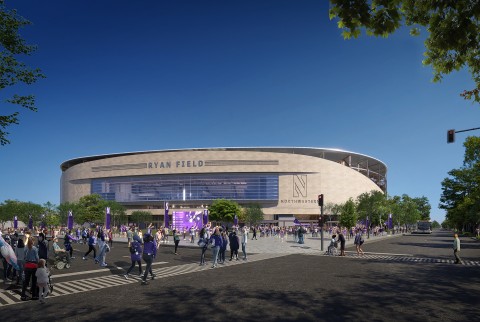 One of many philanthropic investments in the North West by the Ryan family
As the largest donor in Northwestern history, the Ryan family has made philanthropic investments broad and deep throughout the institution, including scholars. The Ryans have supported hundreds of different college programs. Among the most notable are:
Patrick G. and Shirley W. Ryan Hall is the headquarters of Northwestern's International Institute of Nanotechnology (IIN)which brings together chemists, engineers, biologists, physicians and business experts from across the University in search of small answers to big, complex problems in fields as diverse as medicine, information technology, energy, homeland security, food and water security, and transportation.
The Ryan family also contributed significantly to laboratory and research space within the Robert H. Lurie Medical Research Center on the Chicago campus.
Patrick G. and Shirley W. Ryan Family Fellowship in Nanotechnology prepares top graduate students to take on leadership roles in academia and industry. Over the past 15 years, 218 fellows have been funded by 10 different departments across multiple disciplines. About half of former Ryan Fellows have pursued careers in academia; 44% are in industry; 4% are employed in other institutions, such as government agencies, national laboratories, non-profit organizations and hospitals; and 2% continue their studies.
Patrick G. and Shirley W. Ryan Center for the Musical Arts is the architecturally acclaimed home on the shores of Lake Michigan of the Henry and Leigh Bienen School of Music as well as the School of Communication's Theater and Performance Studies departments and administrative offices. The center was inaugurated on the Evanston campus in 2015.
The Ryan Family Chair Challenge significantly advanced research and teaching at Northwestern by promoting the creation of endowed chairs across the university. During We will do it. The Northwest Campaign, the Ryan Family Chair Challenge has matched donations from other North West donors to create 25 new chairs or endowed chairs, across a wide range of disciplines including screen and stage writing, nanotechnology and biomedical engineering . The Chairs will provide a dedicated source of funding for the scholarly activities of Chairholders and will cover the salaries of these professors and members of their research teams.
The Patrick G. and Shirley W. Ryan Family Scholars Program provides financial support to high-achieving, low-income undergraduate students with exceptional leadership potential. Each year, in partnership with Student Enrichment Services, the Financial Aid Office designates a diverse group of 20-25 incoming students as Ryan Scholars based on their community involvement, civic engagement, and financial need. Ryan Scholars have the opportunity to participate in community-building activities and cultural outings throughout the academic year. Since the start of the program, 297 students have participated in the Ryan Scholars program.
About the Pat and Shirley Ryan Family
Patrick G. Ryan graduated from Northwestern in 1959. He earned his undergraduate business degree from what was then called the School of Business and is now called the Kellogg School of Management. He also received an honorary degree from the University in 2009 in recognition of his 14 years of service as Chairman of Northwestern's Board of Directors. In 2013, he was inducted into Northwestern's Athletic Hall of Fame.
Shirley Welsh Ryan graduated from Northwestern in 1961. She received her undergraduate degree in English Literature from what was then called the College of Arts and Sciences and is now called the Weinberg College of Arts and Sciences. In 2019, Northwestern awarded Ms. Ryan the honorary degree of Doctor of Humane Letters.
Mr. Ryan stands out as one of the nation's most successful entrepreneurs and one of the most prominent civic leaders. His first business venture while a student was selling scrapbooks to other students, which paid for his education in the North West. Mr. Ryan founded and served for 41 years as CEO of Aon Corporation, the leading global provider of risk management, insurance brokerage and reinsurance. At the time of his retirement, Aon had nearly $8 billion in annual revenue with more than 500 offices in 120 countries.
In 2010, Mr. Ryan founded Ryan Specialty, a service provider of specialty products and solutions for brokers, agents and insurers. The company provides distribution, underwriting, product development, administration and risk management services by acting as wholesale broker and underwriter manager.
Mr. Ryan is currently President and CEO of Ryan Specialty Holdings, Inc., which completed its IPO in July 2021. The company's shares trade on the New York Stock Exchange under the symbol "RYAN". Mr. Ryan is notable for having founded and built two large companies listed on the New York Stock Exchange.
Mr. Ryan is a member of the Chicago Business Hall of Fame and a member and past president of the Economic Club of Chicago. He is also a member of the International Insurance Hall of Fame and the Automotive Hall of Fame, a member and former Chairman of the Board of Directors of Northwestern, a recipient of the prestigious Horatio Alger Award, and a Fellow of the American Academy of Arts and science. He has served as a director of many public multinational corporations as well as many large cultural and not-for-profit organizations.
Shirley Welsh Ryan is the founder of Pathways.org, which is used by 40 million parents and healthcare professionals annually through her video website and social media in every country except North Korea . Three hundred US higher education institutions use Pathway.org's free resources. Ms. Ryan's pioneering work to enable the fullest physical development of every infant has won numerous awards. Two US presidents have appointed her to the National Council on Disability in Washington DC, which advises the US Congress on disability policy.
In 2017, Pathways.org merged with the Shirley Ryan Ability Lab, recognized for 32 years as the premier rehabilitation hospital in the United States by US News and World Report.
The Pathways.org Medical Roundtable (PMRT), established in 1990, is the first chart of typical and atypical infant development milestones to be endorsed by the American Academy of Pediatrics (AAP). All Pathways.org material is in agreement with the direction of PMRT and AAP
Ms. Ryan strongly believes in the power of early infant detection, therapeutic intervention, universal accessibility and the concept that all children can learn. She serves on the boards of the University of Notre Dame, Lyric Opera of Chicago, Art Institute of Chicago, Chicago Council on Global Affairs, Alain Locke Charter School, and WTTW-PBS. She has also served on the boards of the Kennedy Center for Performing Arts in Washington DC and the Ronald McDonald House Charities; chaired the Chicago Community Trust; and founded the Lincoln Park Zoo Women's Council. For 46 years, Ms. Ryan ran a North West graduate course called Learning For Life.
Ms. Ryan has received honorary doctorates from Northwestern, the University of Notre Dame and the University of Illinois at Chicago. She also received the Chicago History Museum Award for Distinction in Civic Leadership.
In addition to earning her BA from Northwestern, Ms. Ryan studied at the University of Paris Sorbonne and the Ecole du Louvre in Paris.
In addition to Mr. and Mrs. Ryan, the Ryan family includes Northwestern Trustee Pat '97 JD, MBA and Lydia; Rob '00 JD, MBA and Jennifer; and Corbett.