Popularity of traditional culture helps build trust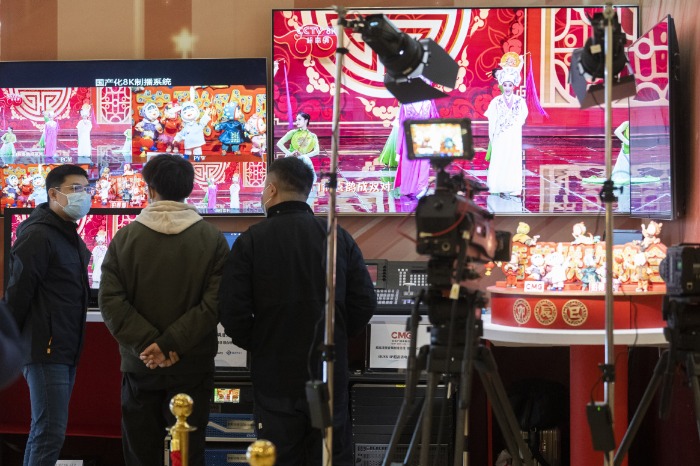 Exquisite works of art made by traditional Chinese craftsmanship displayed along a corridor leading to the press center of the 20th National Congress of the Communist Party of China in Beijing have drawn the attention of reporters around the world. The hallway has become a popular place for journalists to shoot their videos since the news center opened last week.
Traditional works of art not only attract the attention of foreign journalists who feel curious about things with Chinese elements, but also Chinese journalists. They often stop in their tracks to look closely at these pieces, such as a crown adorned with gems and ornaments used in Peking Opera.
As a journalist who started covering cultural events in 2012, I have witnessed the growing popularity of traditional Chinese culture over the past decade, especially among the younger generation willing to use Chinese culture as a distinctive identity.
A decade ago, people wearing hanfu – a traditional Chinese style of dress – were mostly found in tourist destinations, while now young people wear it as daily wear to go to work. They can be seen in subways, in parks and in workplaces. China Chic, or guochao, with fashionable designs mixed with elements of traditional culture, has been warmly embraced by young people.
It is found in the clothes they wear, the products they use on a daily basis and even in their entertainment activities. This is why museums are becoming popular destinations, and visiting one is now a routine leisure activity, as often as going to the cinema. Fang Qin, director of the Hubei Provincial Museum and a delegate to the 20th CPC National Congress, strongly feels the changes. .
"Ten years ago, I would never have imagined that museums had to limit the number of daily visitors to protect their collections," Fang said.
He added that people's passion for traditional culture shows their cultural confidence, which was highlighted in the report issued by Xi Jinping on Sunday.
Known for its bronze artifacts, the Wuhan Museum often exhibits artifacts discovered at archaeological sites, which Fang thought would be difficult for people to understand.
The great popularity of these shows exceeds the expectations of archaeologists. In July, Fang broadcast a live program about the history of a site dating back to prehistoric times. It attracted around 10 million viewers.
"Our cultural trust is based on the 5,000-year history of Chinese civilization. Without the glorious history, we cannot establish a socialist culture with Chinese characteristics," Fang said of the museums' popularity.
I have also noticed the flourishing of many traditional operas and dances that were once on the verge of extinction.
A congress delegate, Hou Yan, told me that she was proud of her profession as a performer of Qinqiang opera, a folk opera that requires performers to sing very high. It was once popular in rural areas of northwest China.
Hou was forced to leave the stage decades ago because the Qinqiang opera troupe she worked for disbanded due to a lack of audience.
Last month, she staged such a show in Kunshan, Jiangsu Province, and won high praise. Many flew from other cities to see her play.
"So many people love my performance. I am very confident and proud of our culture," said Hou, who is one of the elected congress delegates from the cultural sector as promoters of local operas.
Last year, Hou and his troupe performed hundreds of Qinqiang performances in theaters. Some of the troupe's young actors also showed it online and gained a lot of young followers.
A report on the trend of traditional culture in 2021 published in February by Bilibili, a video-sharing platform popular with young people, said that more than 177 million users of the platform were in favor of videos featuring culture. traditional. These culture-related videos always gain tens of thousands of viewers.
"What is cultural trust? I think young people's passion for traditional culture is the best example of that," Hou said.
I agree with Hou. In recent years, my friends always ask me for my recommendation for museums that house relics and objects related to traditional culture. Once our country achieves great economic success, we will turn to spiritual pleasure – and the glorious culture that nurtured our ancestors is the best choice to show our cultural identity.