Pride Week art exhibit in Belleville builds respect and tackles issues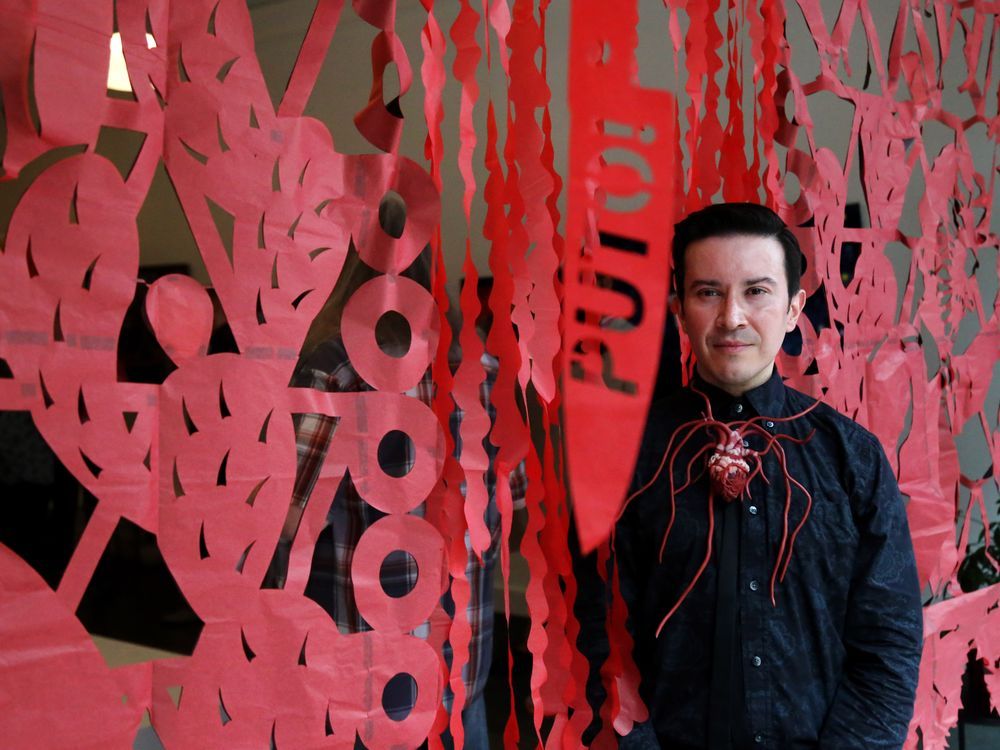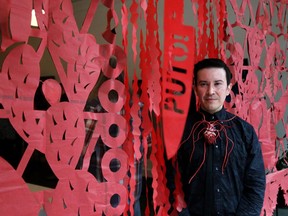 Content of the article
It's part art exhibition, part social commentary, part bridge-building project.
Content of the article
"Everyone Under the Rainbow" is the Quinte Arts Council's fourth annual exhibition and one of many Bay of Quinte Pride Week events. The exhibit launched Monday at the gallery and council offices at 36 Bridge St. E. in Belleville.
His featured work is a large installation spanning the width of the venue's bay window.
The creator of the piece is Luis Cisneros, a non-binary artist born in Mexico who now lives in Belleville and Toronto. Cisneros is completing a Bachelor of Fine Arts in Sculpture and Installation at the Ontario College of Art and Design University.
Cisneros, who uses the pronouns ze and hir (pronounced "zee" and "heer"), said being featured on the show was a very valuable and meaningful opportunity.
"Especially as an emerging artist, it's important to have these spaces because it's very difficult to break into the industry," ze said.
"I'm really grateful."
The installation is entitled "¿Cuano se Acaba?/When is it over? Part II." Constructed of tissue paper, its delicate construction belies the powerful, often violent, images and hurtful words it contains.
Cisneros said the goal in creating the installation was to draw on Mexican imagery and culture, personal experience, and the issues facing the LGBTQIA2S+ community to raise awareness of those issues. (The acronym stands for Lesbian, Gay, Bisexual, Transgender, Queer, Intersex, Asexual, and Two-Spirit, with the plus sign representing other gender identities.)
Content of the article
The artist said he spent three months designing, cutting and arranging layers of red and black tissue paper in his small Toronto studio to create the large installation. It measures more than five meters in width and more than three in height, with additional elements arranged between the main layer and the bay window of the gallery. The artist assembled the piece in 20 by 20 inch sections.
There are several images of physical violence – a child throwing a rock at another, a knife attack – as well as depictions of cacti, a cathedral and Mexico City's City Hall. Cisneros said the church and government incited violence.
Insults in several languages ​​are also present in the installation, appearing on a hand, a knife and other shapes.
The violence involved in sexual and gender discrimination "is not just physical but also verbal," Cisneros said.
"We have to remember that these things are still happening."
Showing these words, Cisneros said, "I wonder which hurts more: the physical acts or the words?"
Ze said the tissue paper symbolized "the fragility of a life and the fragility of the LGBTQ community."
Spectators pass through a curtain of tissue paper ribbons to view the installation from both sides. When you stand with your back to the window, the rest of the gallery is visible through the installation. This, Cisneros said, represents the experiences of his community superimposed on reality.
Content of the article
While viewing an installation, ze said, "You have to walk through them and experience them."
Building relationships
Arts council executive director Janet Jarrell said there were 10 other entries on the show. Most, but not all, artists reside locally.
"Every year it increases," she said. "We make those connections within the community.
"Part of what we want to do is build relationships. … Through these connections, we learn a lot.
Showing the artwork "builds not only awareness, but a lot of respect," she said.
Todd Smith, who on June 2 was re-elected MPP for Bay of Quinte, was in Toronto but sent his constituency affairs director, David Joyce, to attend the launch of the show.
"These colorful and expressive works showcase the wonderful diversity we have here in our region and the show provides a platform for artists to allow us to see the world through their eyes as we celebrate Pride Month" , said Joyce.
"There is only one way to see things until someone shows us how to look at them with different eyes," he said, quoting the late painter Pablo Picasso.
"Thank you to those who bravely tested themselves through their work," Joyce said.
"In some cases, they comfort others in knowing that they are not alone when they see themselves portrayed, and in other cases, they promote questioning, understanding and acceptance in the wider community.
"Love who you love and be who you are," he said.
Mayor Mitch Panciuk also spoke.
Content of the article
"The City of Belleville is an open and welcoming community for all, and we value our diversity," he said in a later interview.
"We accept people, whether they are different or not, and we understand that we really add to the fabric of our city," he said, adding that pride and other cultural events are becoming regular features – and celebrated – of city life.
The arts council has around 400 members but also represents local non-member artists. It has four full-time and two part-time staff and is again using volunteers after a pandemic-related hiatus.
For more information on the show, which ends June 30, or the arts council, visit quinteartscouncil.org or call 613-962-1232. The gallery is located at 36 Bridge St. E. just east of Front Street.
To learn more about Bay of Quinte Pride Week or to find local LGBTQIA2S+ resources, visit bayofquintepride.ca.