Smithsonian's National Portrait Gallery celebrates star-studded 2022 Portrait of a Nation Gala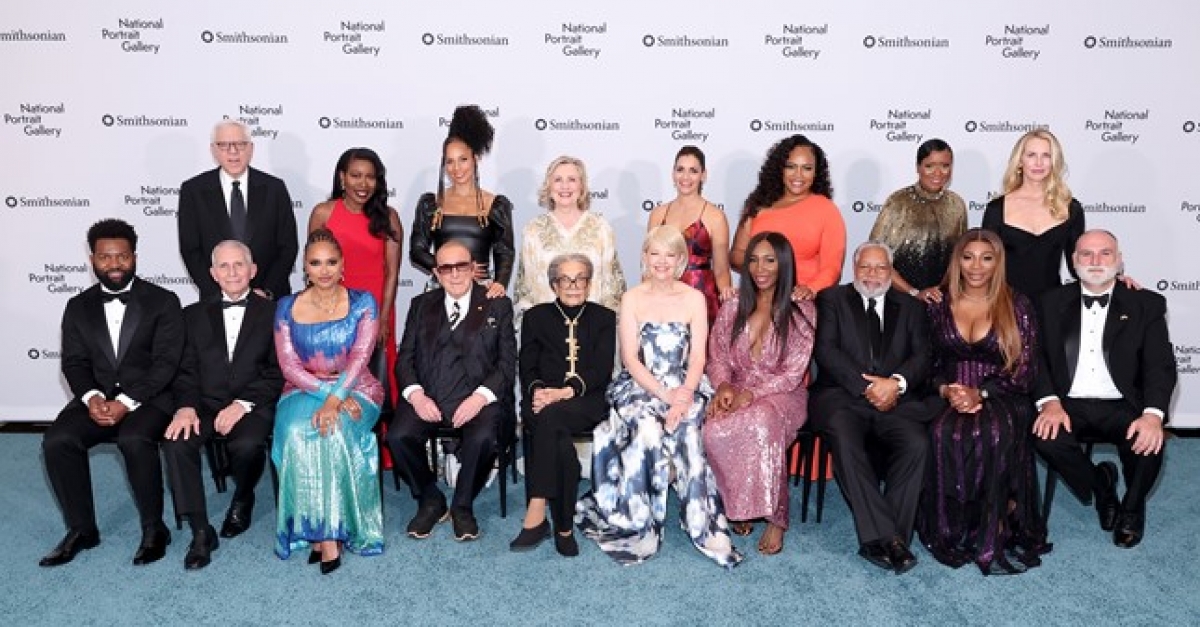 The Smithsonian's National Portrait Gallery and its director Kim Sajet welcomed more than 750 stars and luminaries from across the country to the nation's capital for the 2022 Portrait of a Nation Gala on Saturday, November 12. At the red carpet event, seven honorees received the Museum's Portrait of a Nation Award for their many transformative contributions to the United States and its people.
Among the winners were José Andrés, internationally renowned humanitarian, culinary innovator, New York Times bestselling author, educator and founder of World Central Kitchen; Clive Davis, Grammy Award-winning music industry executive and member of the Rock & Roll Hall of Fame; Ava DuVernay, Oscar nominee and Emmy, BAFTA and Peabody award-winning filmmaker and founder of ARRAY; Marian Wright Edelman, children's rights activist and founder and chair emeritus of the Children's Defense Fund; Anthony S. Fauci, MD, director of the National Institute of Allergy and Infectious Diseases (NIAID) at the National Institutes of Health and head of the Immunoregulation Laboratory at NIAID, chief medical adviser to the president, and adviser on global health issues. AIDS and COVID-19; Serena Williams, tennis champion, winner of 23 Grand Slam titles and entrepreneur; and Venus Williams, tennis champion, winner of seven Grand Slam titles, entrepreneur and passionate advocate for equal pay, mental health and physical well-being.
"This year's Portrait of a Nation gala reinforces our commitment to contemporary portraiture," said Sajet. "We collaborate with contemporary artists to illuminate the history unfolding around us while looking back at the changemakers who came before us. The portrait is both past and present, contemplative and motivating, traditional and avant-garde, and we encourage all who view the portraits of this year's winners to think about how they might see history and want to be seen. .
A media-drenched red carpet adorned the steps of the Greek Revival-style museum as guests took a private tour of the "Portrait of a nation: 2022 winners", curated by Rhea L. Combs, Director of Curatorial Affairs, in collaboration with Taína Caragol, Curator of Paintings, Sculpture and Latinx Art and History, and Leslie Ureña, Curator of Photographs. Six newly commissioned portraits and an unpublished photograph by contemporary artists Ruven Afanador (Edelman), Hugo Crosthwaite (Fauci), Kenturah Davis (DuVernay), David Hockney (Davis), Kadir Nelson (Andrés), Toyin Ojih were on display. Odutola (S. Williams) and Robert Pruitt (V. Williams). Attendees then mingled during a cocktail party hosted by Mia Moretti and Margot.
A performance by famed jazz musician Wynton Marsalis drew guests from cocktails in the museum's historic Great Hall to a dinner party in the Robert and Arlene Kogod Courtyard, where they were also treated to a New York-inspired second-line parade. Orleans.
Sajet, Board Chairman Joseph P. Ujobai and other Smithsonian leaders shared remarks. As host of the dinner program, writer, producer and TV host Baratunde Thurston provided witty commentary. Portrait of a Nation Award presentations were made by Laurene Powell Jobs to Andrés, Alicia Keys to Davis, Isabel Wilkerson to DuVernay, Hillary Rodham Clinton to Edelman, David M. Rubenstein to Fauci, Mellody Hobson to S. Williams and Sonya Haffey. and Isha Price to V. Williams.
Attending the black tie event were National Gala Chairs Catherine and Michael Podell, Eduardo J. Ardiles and Joseph P. Ujobai, and Lyndon J. Barrois Sr. and Janine Sherman Barrois; Washington, DC chairs Kristin and John Cecchi and Susanna and Jack Quinn; founding presidents Wayne and Catherine Reynolds; and welcoming committee members Jeffrey P. Bezos and Lauren Sánchez and David M. Rubenstein. Robert and Arlene Kogod as well as Patty Stonesifer and Michael Kinsley were also members of the event's organizing committee.
Chevron and General Dynamics were major sponsors of the 2022 Portrait of a Nation Gala. vanity lounge was the exclusive media partner. The "Portrait of a Nation: 2022 Honorees" exhibition is supported by Nike Inc.
The Portrait of a Nation gala supports the first national collection of visual biographies. Proceeds support the Portrait Gallery's endowment for exhibitions, collections, commissions and educational programs. For more information, visit npg.si.edu/gala.
"Portrait of a Nation: 2022 Honorees" can be viewed on the first floor of the museum until October 22, 2023. For more information, visit http://npg.si.edu/.
National Portrait Gallery
The Smithsonian's National Portrait Gallery tells the multifaceted history of the United States through the individuals who have shaped American culture. Spanning the visual arts, performing arts and new media, the Portrait Gallery portrays poets and presidents, visionaries and villains, actors and activists whose lives tell the story of the nation.
The National Portrait Gallery is located at Eighth and G Streets NW, Washington, DC Smithsonian Information: (202) 633-1000. Connect with the museum at npg.si.edu and on Facebook, instagram, Twitter and Youtube.
Note to editors:
Guests of the evening also included actors Allison Abner, Gregory Cooke, Spencer Garrett, Ben Youcef; Ambassadors HRH Princess Reema bint Bandar Al Saud (Saudi Arabia), Stuart Holliday and Gwen Holliday, Karen Pierce, Jacques Pitteloud and Angélique Pittelou`d (Switzerland); artists Cey Adams, Hugo Crosthwaite, Kadir Nelson, Toyin Ojih Odutola, Robert Pruitt, Barton Rubenstein and Shawn Michael Warren; singer-songwriter Jewel; jazz musician Wynton Marsalis; DJ Malball; DJ Mia Moretti and violinist Margot; athlete Calvin Ripken Jr.; author and social advocate David Ambroz; chefs Sandra Lee and Geoff Tracy; chemical engineer and Nobel laureate Frances Arnold; cultural leaders Smithsonian Secretary Lonnie G. Bunch III and Maria Marable-Bunch, Caroline Edwards, Brandon Brame Fortune, Uzodinma Iweala, Roger Sant; film directors and producers Janine Sherman Barrois, Jim Budman, Ron Howard; Judge Laura Ripken; media luminaries Billye Aaron, Bret Baier and Amy Baier, Dana Bash, Jeffrey Goldberg, Don Lemon and Tim Malone, Norah O'Donnell, Philip Rucker, Symone Sanders and Max Tucci; philanthropists and business leaders Wemimo and Taylor Abbey, Steve and Jean Case, Marcy and Neil Cohen, Josh Eastright, Alan Fleischmann, John Boochever and Carol Boochever, Teresa Carlson, Alma Gildenhorn, Nancy Lee Kemper and Jonathan Kemper, Martin Luther King III , Enrique Lores, J. Fielding Miller, Janai Nelson, Tommie Pegues, Howard Owens, and Barron Segar; political notables President Nancy Pelosi, Second Gentleman Douglas Emhoff, Jay Carney, former Sec. Elaine Chao, Sen. Cory Booker, Sen. Chris Coons, Stephanie Cutter, Chad Griffin, Mitch Landrieu, Anna Cristina Niceta Lloyd, Frank Luntz, Rep. Doris Matsui, Rep. Jim McGovern and Lisa McGovern, Sec. Alejandro Mayorkas and Tanya Mayorkas, Maria Otero and Joseph Eldridge, Steve Ricchetti, Susan Rice, Gene Sperling and Representative Maxine Waters.
# # #
SI-375-2022