Street performers lure visitors to downtown Michigan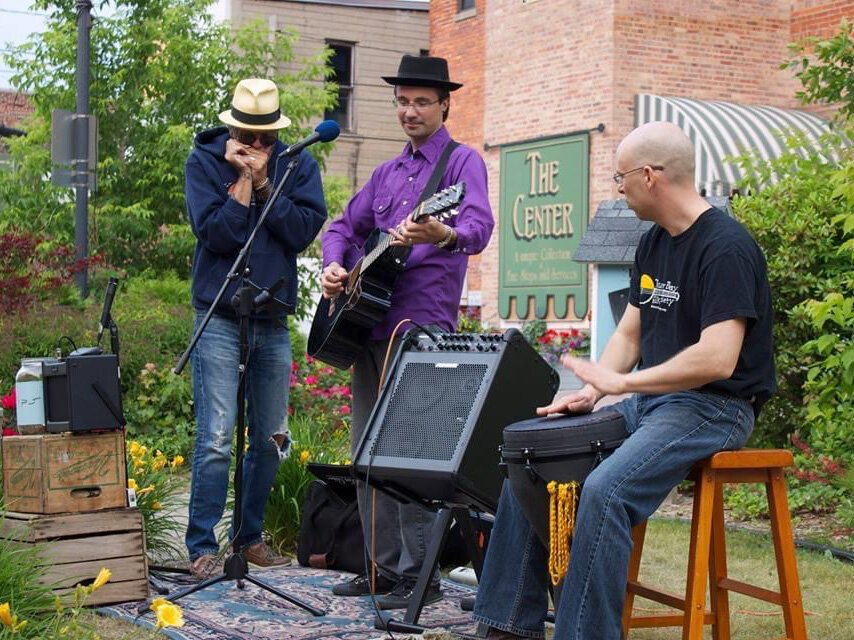 A man on a unicycle passes a hat along a holiday parade route.
A juggler in the street wows the circle of admirers gathered to watch him.
A musician plays on the corner of downtown as passers-by drop coins and banknotes into an open guitar case and that night performs again as part of a band on stage at a music festival summer.
Face-painters, jugglers, mimes, magicians, balloon artists – street performers take many forms, and it all has a rich tradition across Michigan.
Street performers enliven downtown areas, entertain residents and tourists, and add to the cultural fabric of a community. Performance, for many, also contributes to their livelihood.
"Street artists add energy and vibrancy to a downtown.
sidewalks with activity adds another reason for community members and
visitors to spend time downtown," says Dana Walker, director of the Michigan Downtown Association. "The artists add an extra layer of interest to the streetscape and encourage downtown visitors to keep walking around to see who's around the corner.
More and more small town centers are adding street performers to their summer itinerary, she says. "It seems like a cost-effective way for downtown organizations to provide entertainment while encouraging visitors to shop and dine on the main street," she adds.
In Alpena, a non-profit group – Alpena Street Performers – formed a few years ago to provide artists with more places to perform and provide cultural experiences for the community. Performers are assigned locations and dates based on their styles and receive stipends with financial support from the Alpena Downtown Development Authority, Community Foundation for Northeast Michigan, First Federal Foundation as well as support of the community via the Tuesday campaign.
"Our street performers – and live music events in general – have been a catalyst for the revitalization of our downtown and a unique draw to bring people to our neighborhood," said Anne Gentry, executive director of the Alpena Downtown Development Authority. "We have live music from street performers in parks and public areas every Friday night and this year we've also added shows on Wednesday lunchtimes."
Under the city's ordinance, registered street performers can play anytime between 10 a.m. and 10 p.m., "so we asked individual musicians and bands to offer 'pop-up performances' throughout throughout the summer months outside of our organized hours," she says.
"Even though we are a small town, we pride ourselves on the vibrant arts community we have here in Alpena, and having live music gives locals and visitors a way to engage with the arts in a low-key environment and relaxed," she says. "With our social district, on Friday nights it is common to have 'standing room only' in our parks and plazas with people strolling, enjoying a drink and enjoying live music throughout downtown 'Alpena.'

The idea for street performers came from Chris "Crown" Lawrence, a musician from Alpena who had lived in other cities that had buskers and vibrant street performers. He wanted to bring that kind of entertainment to Alpena, so he pitched the idea to the DDA, who adopted the proposal and handles the administrative side of the program.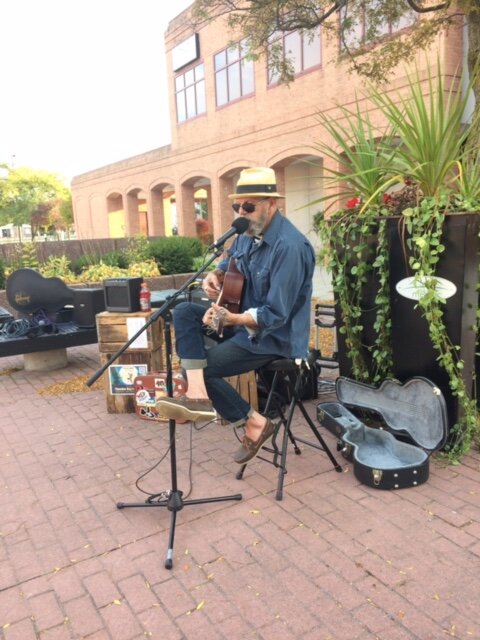 Among the buskers and musicians is Lee Kitzman, 75, who has been performing for decades and helped form the Alpena Street Performers. He is also a DJ for low-power FM station WXTF 97.9LP, which airs on 979harrisville.org.
"It's a fun thing to do," Kitzman says of street performances. "You meet so many people, instead of doing a concert on stage."
Rather than confining the attraction of street performers to a single festival, the Alpena group has scheduled performances throughout the summer. On Friday nights, street performers are scattered throughout downtown, providing live music ranging from blues to jazz to country, from 6-8 p.m.
"Live music is a great outlet for artists and allows the community to come together and share our beautiful downtown," says Lawrence, a musician who also performs with Kitzman and helped form the Alpena Street Performers.
The organization is open to all genres of music and encourages unique talents such as balloon flyers, makeup artists, magicians, hula hoop artists and actors.
During COVID-19, musicians did not have the opportunity to express themselves in traditional venues such as restaurants, bars and cafes," says Lawrence.
"Downtown Alpena still had great outdoor spaces where we could play. It's been a major reward for the community and given us the opportunity to provide a sense of community through tough times," says Lawrence. "The biggest reward is seeing people walking around downtown listening to our music and sharing all that Downtown Alpena has to offer."
East of Jordan
In In northern Michigan, many street musician roots have been nurtured at Blissfest, an annual music festival in Harbor Springs that draws thousands to celebrate folk music and live entertainment.
This is where Tom "Tommy Tropic" Petrie got his start 40 years ago.

These days, Petrie, 61, is the director of entertainment at the Boyne City PirateFest, held August 6-14, and is also on the nonprofit's board of directors.
The festival is billed as "a celebration of Michigan's lakes" and the nonprofit organization's mission is "committed to promoting the education and protection of our natural resources, enjoying the richness that surrounds us, and having fun while engaging the community and visitors".
Petrie is also the organizer of this year's UpNorth BuskerFest in his hometown of East Jordan on the East Jordan Waterfront. The event will take place on July 15 and 16.
He says the festival, a circus in the streets, will be similar to those he has held in previous years in Mackinaw City.
"East Jordan had a giant steel plant that just moved out of town and they're just starting big changes in that town from manufacturing to tourism," says Petrie. The waterfront has been landscaped with parks and a pedestrian bridge.
"We're going to put on circular shows," says Petrie, where the audience gathers in a circle around the performer, on both sides of the lake. Make-up artists, solo musicians and smaller artists will be stationed between shows in a circle.
As Tommy Tropic, Petrie's signature juggling move involves running a flaming stick under his leg while riding a high unicycle — a trick he's performed countless times in Michigan and Florida as well.
In the summer, he rides his high unicycle, passing the hat in parades or around crowds that gather at city festivals. In the winters, he juggles on skis and entertains himself at ski resorts in northern Michigan.
For a decade, Petrie worked as the entertainment manager at Mackinac Crossing, a busy mall and tourist attraction in Mackinaw City. "It was crowded all the time and I did 6,000 individual performances in 10 years," he says.
If that seems excessive, Petrie rejects the idea. "You know, I grew up in construction," he says, "and if you're pouring concrete for eight hours a day, doing 10 shows in a day isn't that hard."
Southern Michigan
Musician Dan Agne might agree.
For nearly 50 of his 66 years, Agne performed in clubs, restaurants, churches, concert halls, private parties, country clubs, festivals, political rallies, senior centers and even nursing homes.
He entertained audiences in Kalamazoo, Grand Rapids, Holland, Benton Harbor, St. Joseph, Marshall, Battle Creek, Elkhart, Three Oaks, South Haven, Saugatuck, Plainwell and Otsego "and even Bellaire once".
"It never felt like work," says Agne, who has played rock, folk, Dixieland, big band, small combos of jazz, blues and musicals. He sings and plays electric, acoustic and bass guitar, both solo and in small groups.
Payment types vary from cash to checks to tips, "to sometimes nothing at all," says Agne.
"It's best to bring home after playing on the streets in a place where you're likely to play for strangers" or in a lakeside tourist town, he says, where he could bring in $100, 200 $ or more. "But it's unpredictable."
"Art and music are definitely more popular in inner cities," he says, "but the pay hasn't gone up in my experience."
It's not a big deal for him, though – as a retiree, he's not entirely dependent on income from gambling.
"The best part of the performance is easily the game itself," he says.
Even with the logistics — transporting and setting up equipment, driving and parking, tasks that become more and more daunting every year — "for me, it's almost entirely about the music," says Agne. "I like to tell people that I've worked my whole life to support my musical habit."
Sault Ste. Married
Brian Chapman, Sault Ste. City Manager Marie is a big fan of the excitement live music can bring to a city, especially after a long winter in the Upper Peninsula.
The Downtown Development Authority of Sault Ste. Marie sponsors a concert series that includes a variety of music, from country solo acts to a steel drum band.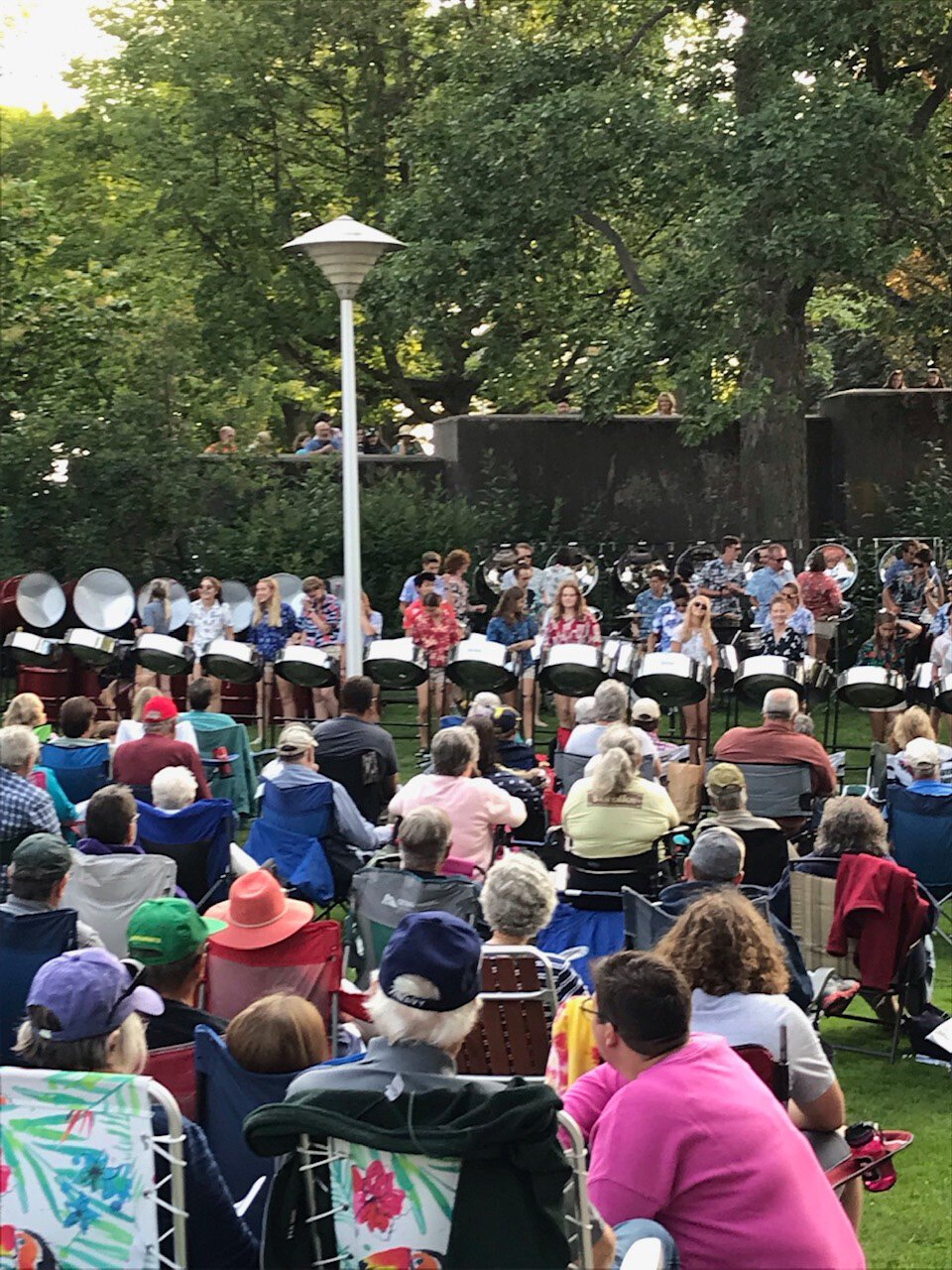 Sault Ste. Marie, population 13,000, hosts a series of summer concerts, from mid-June to late summer, featuring local and regional artists.
The musicians receive a stipend through local businesses that sponsor the series, Chapman says.
This year's Wednesday night lineup kicks off at Soo Locks Park at 7 p.m. on June 22 with The Pub Runners, and follows weekly with Soo Theatre, Tyler Roy, Blue Water Ramblers, Petoskey Steel Drum Band, Dominic Fortuna, Night of Native Music Neil Dorver and Finish Raggae.
"It brings a lot of activity to a normal Wednesday night, and visitors are really looking forward to the concert series. Everyone from children to the elderly," attends, Chapman says.