The Gambia Embassy in DC celebrates its first cultural event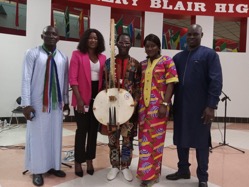 In his welcome address, the Chargé d'Affaires and Acting at the Embassy of The Gambia in Washington DC, Mr. Mustapha Sosseh expressed his gratitude and appreciation to the Gambian community for their collaboration and participation. He said the goal of the program was to bring cultural understanding and encourage diversity which he said is an essential component of human rights.
"It's time we embrace our culture, expose it and pass on cultural understanding to our young people so that we don't fall victim to lost identities," Mr. Sosseh said.
Mr. Sosseh announced the formation of a cultural committee which would include executive members of Gambian associations across the United States and Canada and would be responsible for promoting Gambian cultures. He said the embassy would work with the committee to ensure cultural promotion and ensure respect and acceptance of Gambian cultures.
This decision, according to Mr. Sosseh, would create and inspire innovation and excellence in workplaces, communities and the world at large.
Speaking at the event on behalf of the Gambian-American Association, Ms. Soffie Ceesay commended the Embassy for launching such a great initiative that would enhance cultural understanding. The event, she said, is expected to be an annual event organized by the Embassy, ​​the Gambian community and its partners.
She assured that the Gambian-American Association will continue to work with the Embassy to promote the interests of Gambia and Gambians across the United States of America.
The Information and Cultural Affairs Officer at the Gambian Embassy in Washington DC, Mr. Saikou Ceesay gave an overview of the cultural spectacle. Mr. Ceesay said that efforts to bring Pa Bobo and his team to the United States of America began in February this year, with the organization of an online cultural event involving American universities. He said it was after online cultural events with universities that the Embassy felt it prudent to work with partners to facilitate his trip to the United States to showcase Gambian culture at festivals, June 19 celebrations and the 4th of July across the United States.
Mr. Ceesay said that in this modern era, the power of a country is not measured by its size or its economy but by the degree to which it is able to integrate its culture into the international system. "We will continue to be more innovative and creative to ensure this outcome is produced for The Gambia," he said.
A side event took place at the premises of the Embassy in the presence of 63 young American professionals and 7 representatives of cultural organizations. They were introduced to local Gambian dishes like domoda, benachin and local baobab and wonjo juice.